Posted on January 10th, 2007 by
retsgip
- 1,092 Views
Antabuse Without Prescription
Prozac No Prescription
Prednisone For Sale
Synthroid Generic
Buy Neurontin Online
Erythromycin Without Prescription
Acomplia No Prescription
Motilium For Sale
Avapro Generic
Buy Erythromycin Online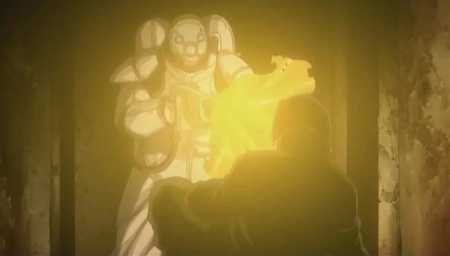 Luke…I am your father *pulls trigger*
Rating: 8.9/10
I liked this episode a lot. We got 1 cup comedy, 2 cups action, a dash of eeriness, and a pinch of funky looking badguy. Et Voila! A well made, 'rough yet delicious' meal of Pumpkin Scissors, at out disposal. Hell, the first scene roped me in pretty fast with its eerie natures, from then on it was landslide city. I hope jokingly quoting Star Wars doesn't put me into the uber-geek category because I haven't even watched them all yet *gasps*. Anyways, pretty good episode.
BEST acting job…EVER
This is probably Pumpkin Scissors comedy at its best: non-slapstick and relative to the plot. We have the entire crew sitting in a truck, waiting for the bad guy to make a deal so they can pretend that they're showing up to do a completely unrelated job. They just happen to see the deal being made, and arrest the guy. The best part is everyone reading from a fucking script in the car, like they can't even act normally–ahhhh, classic. Oreld was funny as hell with his sarcastic attitude the entire time. Even the chief holding the paper over his face like he didn't know they were going to leave and do this, cracked me up.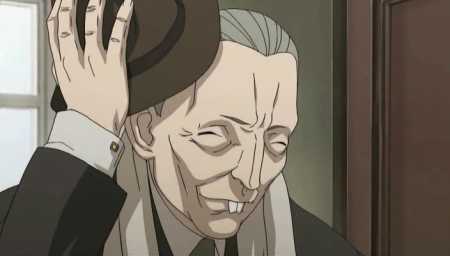 Silly wabbit, twix awe for kids
I'd like to take a minute and say WTF is up with this bad guy?! Its like on Austin Powers 3(?), how he was staring at the dude's mole the entire time, yeah, I was staring at this guys teeth. They're amazing! He must get them cleaned or polished or something, because they look damn good from this angle.
Being serious though, I'm not sure how great of a bad guy this bad guy really is (shit that was like a dr. suess sentence). I mean, he's rich, has access to guns, and a Darth Flamer, but does that make him evil enough? I guess so though, because he basically controls whatever city this is by conquering the sewage system. At least they're finally going up against a real problem instead of like, "omg my heel broke we need to find a shoemaker before the ball tonight." I wanna see what his last words are gonna be. If he does and evil grin as he rubs his hands together I'd crack up so hard.
Also, in other news, it looks like Panda-kun is gonna fight a real human this time. A human tank which I dubbed Darth Flamer, that is. He really fucking creeps me out with his so cold business, which leads me to believe that he was conditioned somehow. This theory also helps support the idea that Panda-kun went through some intensive conditioning too (notice his resistance of violence this episode), since both his and Darth Flamer have odd section numbers which "aren't suppose to be there anymore."
Good episode. I approve. I want more Silly Wabbit and Darth Flamer.
-Retsgip