Posted on January 12th, 2007 by
retsgip
- 7,806 Views
A Bleach episode isn't complete without Kon picking his fabric ass
Rating: 9.0/10
This episode excited me to no end. The first couple minutes were composed of everyday slice of life, but once Shinji showed up, things started to move rather fast. I noticed quite a large decrease in animation quality for certain scenes, but as a whole it wasn't that bad. I can already tell that the writing quality is much higher, and the flow of the episode was 100x better than all the fillers combined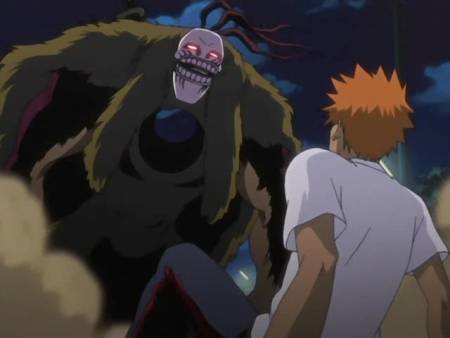 Looks like the cat dragged in some nasty garbage aka Grand Fisher reborn
At first, I thought I was watching a Hollow birth itself from a random egg in some well in whosville, but it turned out to be an old friend! Only this time, he seems to have acquired some epic loot, and has probably hit the max level. If you don't remember who Grand Fisher is, he was the one who killed Ichigo's mother and then later tried to kill Ichigo (unsuccessfully of course). Well, he's back and chasing Kon, whom he thinks is Ichigo. This could get pretty dirty, but Kon should be able to ditch pretty fast with his uber mirco.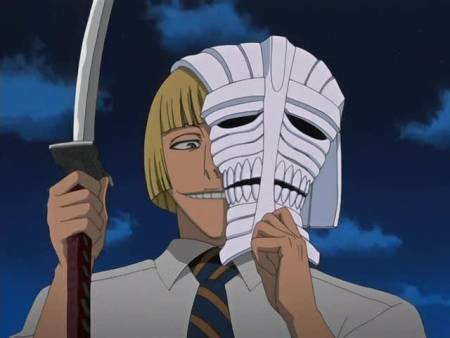 I knew this guy was kinky, but weapons and a mask too?
Can Shinji get any weirder? Like seriously? I dig his confidence, and I don't mind his voice despite everyone else mentioning how much it fails. He reminds me a little bit of One Piece bad guys, except he's not dancing around in a tuu-tuu doing swan kicks, soo…basically he's a Bleach bad guy. Wow, unlimited deduction works right there. What the hell? Apparently this guy likes doing things backwards, and looks like a Gin clone with that mouth and smile. Honestly, I'm surprised he revealed himself so quickly, but I guess he can since he's got friends, and he's also uber powerful.
Some important things to note, which I kind of forgot through the fillers and whatnot:
Vaizards = strong
Soulreaper + hollow powers = strong
Ichigo is basically a Vaizard
This is a shounen series and stronger bad guys will always appear
Hello, Papa-san
Ishida's father is a big ball of GAR itching to pop every viewer's GAR-cherry. If you haven't experienced GAR before, well here you go. Like, be right back, gonna go fap. But anyways, I'm interested in seeing where this relationship is headed. Ishida needs to get his powers back, and this could very well be the answer. Maybe Papa-san will smack him around until he magically regains his powers with the burning passion of hate within, or maybe he'll transfer some of his GAR over and Ishida won't suck so much anymore. Did I mention they decided to have their reunion in the middle of a fight with a huge fucking Hollow?
God, this episode was nuts. I was so overwhelmed afterwards I didn't know what to screen cap or what to write about. There was simply too much information, and too many encounters for me to swallow in 20 mins. I wonder if they can maintain this intensity for the entire arc, or if the pace will slow down to something more reasonable. Anyways, I'm ecstatic that the fillers are over. Now it's Naruto's turn…in a month.
-Retsgip