Posted on February 2nd, 2007 by
retsgip
- 2,495 Views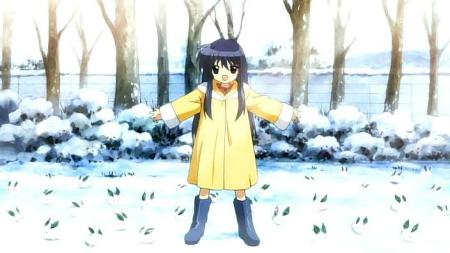 Redefining the term "snow bunny"
Ever read the book Where's Waldo, or maybe Where's Wally? Do you remember how you felt when you played it? That's kind of how I feel when I watch Kanon (2006). For those of you who have never read these books, hopefully I can explain it well enough to grasp. It's like that lost feeling that you get when you've been looking an object you might have misplaced, where your hopes and dreams are dashed upon the fact that you've looked everywhere for said item, and it feels like your intestines are spilling out onto the floor as you cry for help but nobody is listening.
(not quite darkshaunz length but close enough)
Where's Waldo/Wally: (for those who don't know)
Where's Waldo consists of an enormous full-page picture that features a bunch of people doing various activities. There's literally thousands of them on the page, and your job is to find Waldo or Wally, and in the later versions, find other people as well. So basically, you're staring at a page for 20 minutes trying to pick out this nerd who seems to have gotten himself lost, all the while he's laughing his ass off at you from inside the page. Don't get me wrong, it isn't a horrible experience at all, you just get the feeling that you could be doing something else with your time that might be more…productive. I guess wasting 20 minutes (per page) of my life for a few seconds of awesomeness when you finally find him, seems a little silly to me now, where as 10 years ago it might have been fun. (this brings up another issue, which is age, but I'll comment on that another day).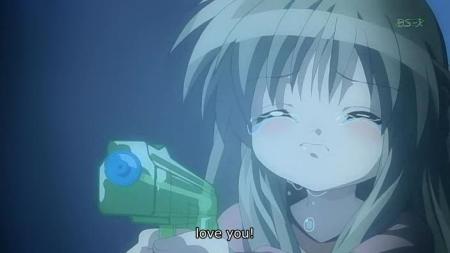 Love confession at 'gunpoint'
Why all the hate, yo?
A few months ago I wrote Ugly on the Inside, which was obviously a skewed view of what really takes place inside Kanon. I'm not saying I was wrong in my assessment of the series, because clearly Yuuichi was being a complete dick up until Makoto started dying. Yes, I'll hand it to him for changing from the hurtful humor to a more harmlessly humor-filled self. I'll blame the writers for all the bumpiness I felt and will give the benefit of the doubt by saying that they were "figuring out how they wanted to portray Yuuichi's character."
But then, even after Yuuichi's magical change into the realm of nice guy male lead, I felt like something was still missing. What could it be? It wasn't the fact that the females were only mildly interesting with the catchphrases, but more the fact that the story lacked something. I honestly can't put my finger on it, but the best way to describe it would be probably be that it lacks common ground. The viewer has practically no way to related to the characters, because the situation is rather too magical in such a perfectly non-magical setting.
What I'm trying to say is that it's not every day we must try and help someone live out their days to the fullest, because tomorrow may be their last. Even in magical anime or typical Shounen anime, there's a common theme that we can all relate to, which usually manifests itself in the form of stuff like: "work hard to achieve your goals," "friendship is #1," "life is hard but you must overcome those odds." Even when hidden within the magical or fantasy worlds, these themes can be recognized and related to by the general public because at some point in their life, they've had to deal with a situation that was metaphorically similar.
Don't even pull the obvious cards on me like: "but Kanon shows how you can be friends with everyone", "Kanon is about removing those barriers within oneself to become a better person," or even try to claim that Yuuichi experiences emotions that are similar to most high school kids. I'll squat and power-up while you're puzzling over the fact that I could quite possibly be taking a shit or not. Then you'll be toast. (this paragraph is just asking for people to repeat those very sayings to me in the comment section, but now that I've pointed it out you'll look pretty foolish doing so)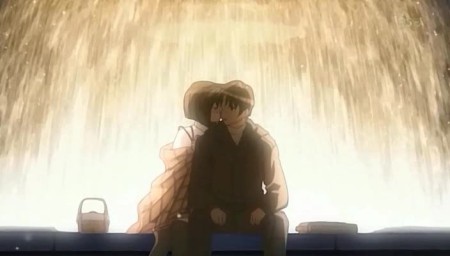 I think she's sucking out his eye or something…
Wait, so if Kanon is like Where's Waldo, that means you enjoy some of it right?
Right. I'll admit it right here and now that indeed do enjoy some moments of Kanon. Although, the moments I found interesting, fun, or touching, came few and far between. Most of the episodes are spent searching for something of value that I can either relate to or enjoy, which usually ends in a bit of disappointment. I will say though, that when I do find those scenes that I enjoy, I really enjoy them. Kanon has at least had the power to make me shed a manly tear that was no doubt full of both GAR and femininity, encompassing all that it means to be human. (WTF did I just say? I have no idea)
If you scroll up and look at the three pictures I've posted throughout this entry, you'll see which scenes I found stood out the most to me. At first, I thought that it was the story that sucked, and that I was leaning more towards the flashbacks because they had more feeling, but then I figured out what they all had in common. Love. Yes, finally an emotion or situation that I could relate to, that practically EVERYONE can relate to. Mai was trying to show her mother the strength of her love, Sayuri was expressing her love to her brother, and Shiori finally gave Yuuichi something that he seems to have been lacking this entire series: LOVE.
Wrapping it up
This really isn't a flame, and I'm not pointing fingers at anyone, but really just trying to puzzle out how I feel when I'm watching this show. I don't expect many people to agree with me since no doubt they are still in the "crush stage" with Kanon, and can't see its faults. But I still love you guys, no worries. I'm kind of interested to see if anyone feels the same way as me or not, although I'm assuming people either hate it or love it at this point.
-Retsgip