Posted on February 17th, 2007 by
retsgip
- 33,188 Views
Its good to see them mixing in Kakashi humor once again (I missed it)
Rating: 8.8/10
And so, after two years of dicking around and watching the grass grow in the Narutoverse, the new series finally appears. I wont claim that with this new coming, everything will be saved and that we can all magically forget that the fillers ever happened. What I will claim is that I'm satisfied with the pace and the method in which they presented the manga material. I have a feeling that quite a few mangatards will be up in flames with this episode, but they can go eat dick because whining about it isn't going to change anything.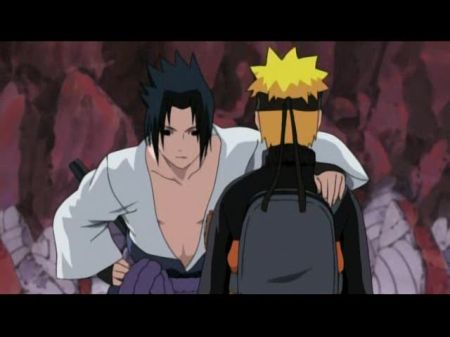 Sasuke: *whispers* "I still yearn for you inside me…that's the real reason I didn't kill you"
Naruto: *starts crying* "S-s-sasuke…"
At first, when the show started with Naruto and Sakura running through a dark hallway, I immediately was like "what the fuck?" because I thought they had skipped half of the manga. Then I realized it was just a spoiler for adventures to come, and then I was like "why the fuck?" I'd say it was poor judgment on their part to do this, but I guess they wanted to start out strong and remind everyone (for the millionth time) that Sasuke ran away. I'm just hoping this 10 minute spoiler doesn't mean we don't get to see that story later on down the road. Although, that might be good since I didn't really want to see Naruto crying his eyes out (for the millionth time) once he realizes that he's not gaining ground on Sasuke at all. Oh yeah, in case you were wondering, Sasuke doesn't stab Naruto, but instead slices open his backpack. Apparently Orochimaru doesn't stock his hiding places with food and he was fucking starving…
Best couple ever? I think so.

Beyond the spoiler of NaruSasu reunion, I was quite pleased with the way this episode was rewritten. The storyline seems a lot more probable and the interactions between Naruto and the others seemed a lot more natural than what was written in the manga. While I was watching, I thought to myself, "what would make Naruto anime better than the manga?" Then answer was "bonus material." In order for the anime to surpass the manga, I'm going to need lots of bonus material because who the hell wants to see the exact same thing as what they just read? I'm sure there are some, but honestly, the story is more interesting if we get to see MORE than just the main story. There's also new music! It kind of reminds me of old epic kungfu movies and the like, but it seems to work rather well with naruto. I was tired of the midi-esque background music, and am ready for more in depth soundtracks.
Konohamaru is SO much hotter than Naruto. Someone needs to shop those clouds off for me.
For example, a mini Konohamaru's mission. The only reason I don't classify Konohamaru's mission as a filler is because it was well done and it was somewhat related to the story. We see that Konohamaru is becoming a better ninja and striving to be the 7th hokage, the 6th being reserved for Naruto. The speech he gave was a nice transition into Naruto finally showing up in Konoha. People need to chillax and realize that the Anime story is not going to be exactly the same. I will admit though, that the "commercial fillers" with the secret password was kinda lame, even though it let us see comparisons of new and old Naruto and Sakura, and some interations between Kakashi and Jiraiya.
You're too good for Naruto, don't even blush at him.
In all, I don't think it was worth waiting two years for, but it was good. I'm hoping that I'll no longer have any need to bash this show, because the story quality will no longer shit in my brain. Also, get ready for my subliminal Sakura fanboyisms because after the time skip I think she's awesome. She also gets to shine a little bit during this first serious fighting arc. Anyways, its good to be back and not sucking a nut.
-Retsgip